(LPL) Victory Five vs. Vici Gaming – 3:00AM ET April 18, 2020 
(LCK) DAMWON Gaming vs. KT Rolster – 4:00AM ET April 18, 2020
(LPL) Rogue Warriors vs FunPlus Phoenix – 6:00AM ET April 18, 2020
(LPL) Royal Never Give Up vs. Suning Gaming – 8:00AM ET April 18, 2020
Well, we have an exciting night of League ahead of us and i'm going to be firing bullets left and right. There are 4 match-ups included on the DFS slate for Fanduel/Draftkings that I will be discussing. I'll also look at betting moneylines and map handicaps, as well as some prop bets over on MonkeyKnifeFight.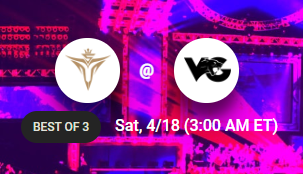 (LPL) Victory Five (V5) vs. Vici Gaming (VG) – 3:00AM ET April 18, 2020 
The first game on this slate features my favorite team to bet against – Victory Five. V5 has consistently been the worst team in the LPL, and betting against them has proved to be really profitable. Their record thus far in the LPL Spring 2020 Season sits at a terrible 0-15. This is one of those spots where you can't overthink things as a bettor. Sure, V5 could win one of these things eventually, but if i'm betting on this game, i'm following the trend and taking VG. Unfortunately, the moneyline odds for Vici Gaming are -1000, which puts them at an implied winning probability of 90.91%.The map handicap odds are for VG -1.5 are -200, which is a little bit more appealing of a line. It seems the oddsmakers are catching up to the fact that betting against Victory Five has been free money. I definitely lean towards taking VG -1.5 in this match-up, but i'll probably just stay away all together and play VG in DFS. It is usually profitable to stack winning teams in daily fantasy, so it only makes sense to stack Vici Gaming since they have such a high probability of winning. In order from favorite to least favorite, here are my favorite Fanduel plays: 
​1) Aix (JNG) at only $8,500
2) Forge (MID) still pretty cheap at only $8,800
3) iBoy (ADC) is a little bit more expensive at $9,900, but he could easily make good value at this price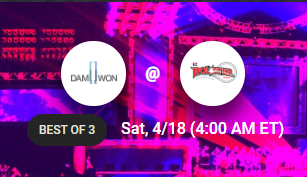 (LCK) DAMWON Gaming (DWG) vs. KT Rolster (KT) – 4:00AM ET April 18, 2020
Next up, we switch over to the LCK for a matchup between DAMWON Gaming and KT Rolster. This one is not as cut and dried, and really could go either way. Both teams are neck and neck in the LCK Spring 2020 Season – KT Rolster is in 4th place with a record of 10-8, while DAMWON Gaming is in 5th place with a record of 9-9. KT is the favorite to win this match-up, with a moneyline of -150. I really think these teams are so evenly matched, that I'd rather take DWG as an underdog. My favorite play is to take the +1.5 map handicap for DWG at -250, meaning they would only have to win 1 game for you to win your bet. These odds are a little steep, since KT is not an overwhelming favorite, but that would be where I put my money in this spot. I'm really going to stay away from DFS for the most part here. You're basically flipping a coin on who will win this match-up, so I wouldn't feel too confident stacking either team, especially when there are much better stacks on the slate.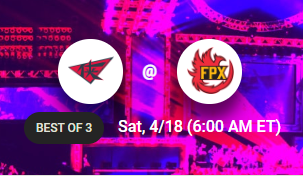 (LPL) Rogue Warriors (RW) vs. FunPlus Phoenix (FPX) – 6:00AM ET April 18, 2020
Back to the LPL for a match-up that I love to attack from a fantasy perspective. FunPlus Phoenix has been on fire lately, winning 11 of their last 12 series. They currently sit at 2nd place for the LPL Spring 2020 Season and have a record of 11-3. Rogue Warriors have not shown me much in tough match-ups, and are currently in 11th place with a record of 6-8. While RW has looked decent at times, I don't think they stand a chance against FPX here. FunPlus Phoenix is obviously a big favorite, with moneyline odds of -625. I will be all over their map handicap of -1.5, which has odds of -150. I think that FPX has a strong chance to sweep here, and the implied probability of covering the spread at 60% feels too low to me. This is easily my favorite play on the slate and I will be hammering FunPlus Phoenix. With that in mind, I will also be heavy on FPX for fantasy, as well as fading RW almost entirely. I like GimGoon (TOP) the most on Fanduel at a cheap price of $8,600. He should get the start over Khan again, and I expect him to have another good performance. My favorite play is on MonkeyKnifeFight  where you can take Lwx (ADC) over 73.5 fantasy points and Haro (JNG) under 48.5 fantasy points. Lwx is just such a lock to do well here, so he should score plenty of fantasy points. I will also take him on Fanduel, but he is the most expensive player on the slate at $10,000, which makes him a little less appealing. I don't see anyone having a big game on RW, so Haro's fantasy point total can easily go under.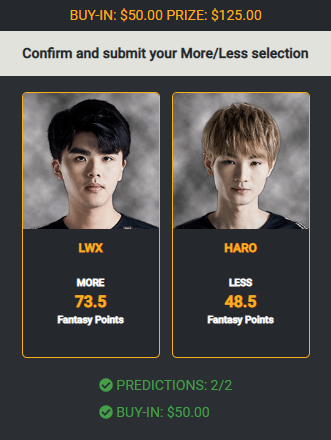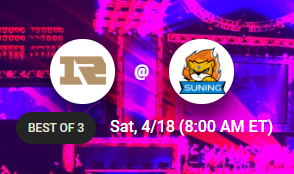 (LPL) Royal Never Give Up (RNG) vs. Suning Gaming (SN) – 8:00AM ET April 18, 2020
We finish up in the LPL with the last game on the slate between Royal Never Give Up and Suning Gaming. RNG is in 7th overall in the LPL Spring 2020 season with a record of 8-7, while SN sits in 13th place with a record of 6-9. We have seen Royal Never Give Up struggle recently, and they have lost some match-ups that were very winnable. I do think they'll bounce back a bit after getting swept by Dominus Esports (DMO) in their last match-up. The moneyline odds feel too high for RNG at -250, so I think it makes sense to target Suning Gaming here as the underdog. I like taking SN with a map handicap of +1.5 the most, which can be bet at -150. Since I'm not convinced that the favorite will win in this match-up, i'm going to mostly stay away from it in daily fantasy.