(LCK) T1 vs. DragonX – 4:00AM ET April 22, 2020
(LPL) Team WE vs. eStar – 5:00AM ET April 22, 2020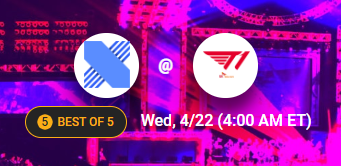 (LCK) T1 vs. DragonX (DRX)- 4:00AM ET April 22, 2020
Moneyline Odds: T1 -222
Map Handicap: +1.5 DragonX -125
We start in the LCK with the third round match-up of their king-of-the-hill style playoffs for the 2020 Spring Season. DragonX finished the season in 3rd place with a 14-4 record, and was able to defeat DAMWON Gaming (9-9, 5th place) in the previous round of the playoffs in order to get here. They are facing off against the team that earned second place in the LCK with a 14-4 record, T1. The winner will move on to the Finals, where they face a tough match-up against top-ranked team Gen.G.
It took all 5 games for DragonX to get by DAMWON Gaming in the last round, but don't let the box score fool you into thinking that this was a close series. DRX absolutely dominated the first 2 games, then lost focus in the next 2 games, before dominating again in the 5th game. After a strong start to the season, T1 hasn't really been able to keep up in difficult match-ups as of late and their level of play has seemed to diminish a bit. They were recently swept by both KT Rolster (10-8, 4th place) and DAMWON Gaming, which did not build confidence heading into the playoffs. I still think that T1 is the better team, but judging off of recent performance, I have to ride with DRX to at least cover the +1.5 map handicap at -125 odds. There may be some recency bias since I just watched this team play, but I am confident that they will play well in this spot.
Chovy (MID) was spectacular in the games that DragonX won, so he is someone I would look at in daily fantasy, especially if you think DRX has a good shot of winning. I plan on stacking some lineups with DragonX, which could be really profitable if they do pull out a win. Chovy is $8,900 on Fanduel and $6,800 on Draftkings. It might be a bit of a long shot, but I will also have him as the STAR on Draftkings in a few lineups, which has a price of $10,200. I think Chovy is a great play with high upside, as he will be leading the charge if DRX were to upset T1.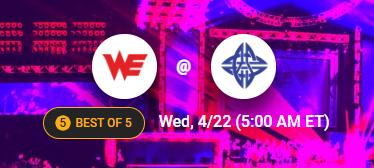 (LPL) Team WE (WE) vs. eStar (ES) – 5:00AM ET April 22, 2020
Moneyline Odds: eStar -250 
Map Handicap: -1.5 eStar -110
Up next, we have the first round match-up of the LPL 2020 Spring Playoffs! Team WE is coming off of a crucial victory over Oh My God, which locked them into the final open spot of the playoffs. WE finished the season with an 8-8 record, which was good enough for the 8th seed. Their opponent, eStar, was recently swept by Top Esports (11-5, 4th place) and finished in 5th place with an 11-5 record. There is one other first round match-up that will take place on Thursday April 23, 2020 at 5:00AM ET between EDward Gaming (9-7, 6th place) and Royal Never Give Up (8-8, 7th place).
We did see eStar maintain a higher seed for a while, but 4 of their 5 total losses came in the last 6 series of the season. The past few weeks have clearly not been pretty for eStar, but they did sweep Team WE back on April 11th. Team WE was impressive against OMG in what was basically a playoff match and they come into this match-up with some momentum. They went down 0-1 to Oh My God, but were able to come back and win mainly thanks to Morgan (TOP), who went 8-0 with 9 assists in game 2, and 6-0 with 4 assists in game 3. While WE did look good, I don't see them being able to get past eStar. I know that ES has showed signs of weakness lately, and I don't think they will go far in the playoffs because they have struggled against strong opponents. However, I think it is unlikely that they get eliminated from the playoffs this early, and I think they will be focused again now that it is playoff time. My favorite play is to take the -1.5 map handicap for ES at -110 odds. I think moneyline is a fine play too. ES is simply the more talented team, and if they play at their best, this should be an easy win for them in 3 or 4 games. 
From a fantasy perspective, eStar is my favorite stack on this slate. My favorite play on both Fanduel and Draftkings is ShiauC (SUP). ShiauC has had some big performances for eStar all season long, and played particularly well the last time these two teams faced each other. He is $7,800 on Fanduel, and $5,800 on Draftkings, which makes him a lot more reasonably priced than his teammates. I will definitely pay up for some of his teammates, but ShiauC will be included most frequently in my stacks. Since I think this will be over in 3 or 4 games, I am pretty much just looking at taking unders for projections on MonkeyKnifeFight. My favorite play on this slate is to take the UNDER – 23.5 Kills – Cryin (MID) and the UNDER – 35.5 assists – Missing (SUP).