(LPL) LGD Gaming vs. Rogue Warriors – 3:00AM ET April 20, 2020

(LPL) Team WE vs. Oh My God – 5:00AM ET April 20, 2020
(LPL) Top Esports vs. FunPlus Phoenix – 7:00AM ET April 20, 2020

The LPL 2020 Spring Season is coming to an end, and these are the last games before the playoffs start on April 22, 2020. For Fanduel/Draftkings, the slate consists of these 3 LPL match-ups. As always, I will breakdown the entire slate and discuss my favorite moneyline and map handicap bets, as well as prop bets on MonkeyKnifeFight. My League bets have been doing pretty well lately, especially in the LPL, so hopefully we continue to cash tickets on this slate!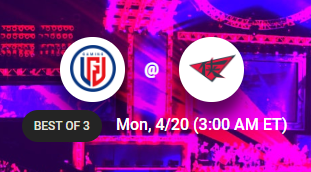 (LPL) LGD Gaming (LGD) vs. Rogue Warriors (RW) – 3:00AM ET April 20, 2020

Moneyline Odds: LGD Gaming -140

Map Handicap: +1.5 Rogue Warriors -270
LGD Gaming has not ended their season on a high note thus far and are now in 15th place with a 5-10 record. They've gotten swept 3 times in a row, albeit against tough competition in their 2 most recent series – FunPlus Phoenix (12-3, 2nd place) followed by JD Gaming (12-4, 3rd place). LGD will hope to finish strong in a very winnable match-up against Rogue Warriors. RW is now in 13th place with a 6-9 record after losing their last 2 series to the same opponents that LGD lost to – JD Gaming followed by FunPlus Phoenix. Rogue Warriors did play very well against FunPlus Phoenix, and they were able to force a game three. Although these teams have no chance to make the playoffs, I still expect them to compete vigorously as the season comes to an end. Both teams have a fighting chance here, so I was a bit surprised to see LGD as a slight favorite. Taking Rogue Warriors as an underdog seems like a great bet to me, because quite honestly I thought they might be favored to win. The +1.5 map handicap for Rogue Warriors looks extremely appealing to me at -270. I think RW has a good chance to win outright, and I would be very surprised to see LGD Gaming sweep. At -270 odds, the implied probability of this bet is 73%, and I think the true probability is greater than that in this spot. On MonkeyKnifeFight, my favorite pick is on the More or Less – Kills and Assists contest for ZWuji (ADC) and Peanut (JNG). I expect plenty of action in this match-up, and I think both players can exceed their expectations for this prop bet. I recommend taking MORE – 9.5 Kills – ZWuji and MORE – 16.5 Assists – Peanut. Let's hope that this goes to 3 games, so that both players have the best chance possible to exceed their totals.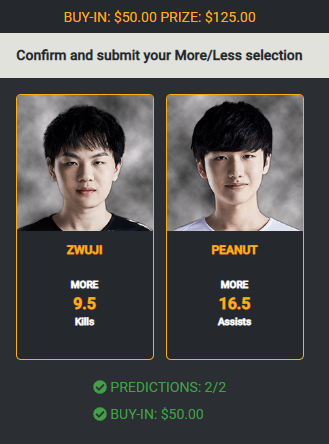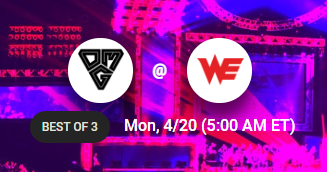 (LPL) Team WE (WE) vs. Oh My God (OMG) – 5:00AM ET April 20, 2020

Moneyline Odds: Oh My God -130

Map Handicap: +1.5 Team WE -285

The playoff implications of this match-up are huge. Both teams have a 7-8 record, with Team WE in 8th place and Oh My God in 9th place. Only 8 teams make the playoffs, so these teams are competing for the final spot, which means this bout is sure to be hard-fought on both ends. Team WE is coming off of a huge victory over EDward Gaming (9-7, 6th place), where they were able in win in 3 games. OMG has gotten swept in their last 3 series, including most recently against EDward Gaming as well as a lousy loss against LGD Gaming (5-10, 15th place). It just doesn't make a whole lot of sense to me that OMG would be favored in this spot. I have to lean towards Team WE as an underdog here. Again, my favorite bet in this spot is on the +1.5 map handicap for Team WE at -285, because I think it is very unlikely that they get swept. This is basically the start of the playoffs for both teams, and I don't see either team giving up easily as they both fight for a playoff spot. Team WE just needs to win 1 game to cover the map handicap, and I think they will at least be able to do that.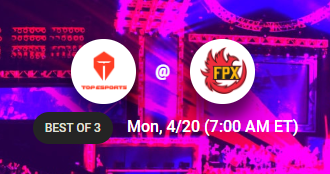 (LPL) Top Esports (TES) vs. FunPlus Phoenix (FPX) – 7:00AM ET April 20, 2020

Moneyline Odds: FunPlus Phoenix -222

Map Handicap: +1.5 Top Esports -185

Here we have two playoff-bound teams fighting for seeding, so this should be an exciting match-up. Top Esports is now in 5th place with a 10-5 record after a remarkable sweep of eStar (11-5, 4th place) last week. FunPlus Phoenix has continued to find ways to win, and have now won 12 of their last 13 series after losing their first 2 series of the LPL Spring 2020 Season. FPX has truly been the hottest team in the LPL down the stretch and are now in 2nd place with their 12-3 record, but they have let some series go to 3 games when it seemed like they might be able to get the job done in 2 games. Both teams are sure to be focused with the playoffs starting in just a few days, so I think we will see a top performance from both sides. I really like taking FPX moneyline at -222 odds. FunPlus Phoenix has been profitable to bet on all season and I will continue to have faith in them. Like I mentioned, I don't feel too comfortable taking their map handicap at -1.5, because this may not be a sweep. However, at plus money, it is a bet worth considering. Still, I will take the safer route and bet on FunPlus Phoenix to win outright. FPX is my favorite team from a fantasy perspective, and I will stack them in Fanduel and Draftkings while mostly fading TES. My favorite play on both sites is Lwx (ADC). Lwx has continued to impress, especially in wins where he typically puts up massive fantasy point totals. Since I expect FPX to win here, I feel confident that Lwx will have good fantasy value. He is $10,200 on Fanduel and $7,600 on Draftkings. I will also have some lineups on Draftkings with Lwx as my star player, which has a price of $11,400.