(LPL) LGD Gaming vs.  JD Gaming – 3:00AM ET April 19, 2020 
(LPL) EDward Gaming vs. Team WE – 6:00AM ET April 19, 2020
(LPL) Invictus Gaming vs. LNG Esports – 7:25AM ET April 19, 2020
We have 3 exciting LPL match-ups on this slate for League of Legends on Fanduel/Draftkings. I will also be discussing my favorite moneyline and map handicap bets, as well as prop bets on MonkeyKnifeFight. I did decent on the last slate, and hope to nail down a couple more locks again.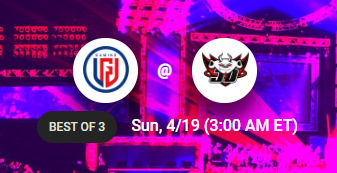 (LPL) LGD Gaming (LGD) vs.  JD Gaming (JDG) – 3:00AM ET April 19, 2020 
Moneyline odds: JD Gaming -475
Map Handicap: -1.5 JD Gaming -125
JD Gaming has been unstoppable lately. They've won their last 6 series, and the last 5 have been 2-0 sweeps. They are now 3rd place in the LPL 2020 Spring standings at 11-4. LGD has lost their last 2 series, but their most recent loss did come against a top team – FunPlus Phoenix (12-3, 2nd place). JDG has been on a tear, and I recommend sticking with the trend and betting on them to sweep with the -1.5 map handicap at -125 odds. This win streak from JD Gaming has been very impressive, including wins over top teams, like Invictus Gaming (13-2, 1st place) and eStar (11-5, 4th place). The fact that they have stayed focused and have not let their opponents win a single game in their past 5 series is a really good sign and makes me feel comfortable betting on them. For fantasy, LokeN (ADC), Yagao (MID), and Kanavi (JNG) are all solid plays per usual, since JD Gaming has such a high win probability. Unfortunately, they all have been priced up as of late, most notably Kanavi on Fanduel at $9,200. My favorite play on Fanduel is LokeN (ADC) at $10,200 and my favorite play on Draftkings is TEAM JD Gaming at $5,600.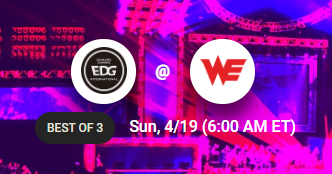 (LPL) EDward Gaming (EDG) vs. Team WE (WE) – 6:00AM ET April 19, 2020
Moneyline odds: EDward Gaming -333
Map Handicap: +1.5 Team WE -130
EDward Gaming has been playing at a high level recently, and now sit in 6th place at 9-6. They've won 5 of their last 7 series, with their losses coming from the top 2 teams in the LPL – Invictus Gaming (13-2, 1st place) and FunPlus Phoenix (12-3, 2nd place). Team WE has been on a downward spiral lately. They've lost their last 3 series and are currently in 12th place with a 6-8 record. Most recently, they lost to one of the worst teams in the LPL – LNG Esports (5-10, 16th place). I do think that EDward Gaming will continue playing well, and Team WE will probably continue their losing streak, but WE has been known to force a lot of game 3s, so I would be careful taking the -1.5 EDG map handicap. I think the +1.5 Team WE map handicap is a much more attractive option at close to even money. If you want to bet on EDG, I recommend taking them moneyline at -333, but I don't think this is quite a lock. Team WE has the talent to turn things around, and I think they will put up a good fight in this spot. I'd lean towards taking EDG in daily fantasy, but some of the Team WE options are pretty cheap, so they might be worth taking a shot on. My favorite play on Fanduel is Scout (MID) at $8,600 and my favorite play on Draftkings is JieJie (JNG) who is really cheap at $6,800.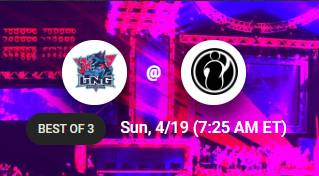 (LPL) Invictus Gaming (IG) vs. LNG Esports (LNG) – 7:25AM ET April 19, 2020
Moneyline odds: Invictus Gaming -1000
Map Handicap: -1.5 Invictus Gaming -220
The last slate of the game should be good from a fantasy perspective, as Invictus Gaming is a huge favorite against LNG Esports. IG is the first place team in the LPL, with a record of 13-2. LNG  is the second-to-last place team in the LPL, at 16th place with a 5-10 record. LNG recently beat Team WE to end a 5 series losing streak, where they got swept all 5 times. Invictus Gaming has let some series go to 3 games lately, when they could've easily swept. However, this is such an easy match-up for IG, that I am confident they will sweep in this spot. Their -1.5 map handicap does have steep odds at -220, but I still feel that this is the best play on this slate. I would be very surprised to see LNG win even 1 single game. You probably can't go wrong with any of the IG players in DFS, and I would stay away from LNG. It is unlikely that LNG will score many fantasy points if they get blown out like I expect. My favorite play on Fanduel is Rookie (MID) at $8,600 and my favorite play on Draftkings is Leyan (JNG) at a very cheap price of $6,600. The bet that I love the absolute most comes over on Monkey Knife Fight where you can bet on prop bets for the fantasy point totals of the players. The contest is More or Less Fantasy Points and the play I will be taking is MORE 75.5 Fantasy Points – Puff and LESS 31.5 Fantasy Points – chenlun17. Puff usually scores the most fantasy points on IG, and I expect this to be a prolific spot for him and his teammates. I think taking the over on his point total is pretty much a lock. I don't see anyone on LNG scoring a lot of fantasy points in what should be a blowout. We've seen chenlun17 have a poor performance when LNG recent got swept by Royal Never Give Up (8-8, 7th place) where he only put up 5.68 fantasy points. I think that the under on his point total makes the most sense in this match-up.