Dominus Esports (DMO) vs. Victory Five (V5) 2:00 AM ET  – Friday 04/10/2020
Here we have a match-up between two really bad teams. Dominus Esports has done poorly, with a previous record of 8-18. However, that record actually looks pretty good next to that of Victory Five, who has a measly previous record of only 1-24. DMO is certainly looking at this as an easy win, but I'm sure V5 feels like this is a winnable game for them. With that being said, I do feel like this game has some potential to be a barn burner. However, my main focus will be to go heavy on DMO. I think Dominus will put up big numbers from a fantasy perspective, regardless of how Victory Five plays.
My favorite MonkeyKnifeFight picks:
I love targeting GALA (ADC) in this spot. There is a contest to bet on the number of kills GALA will have tonight, which is at 10.5. I'm not really interested in betting on kill totals for this game because that could easily go under even if DMO dominates. I prefer to look at the More or Less – Fantasy Points (2.2x) contest. Here we can bet on GALA to score more or less than 67.5 fantasy points. I see this being a night of prolific stats for all of the DMO players, and especially GALA, so I love betting on more. This is a lock in my opinion. That leaves us with the other side of the coin – Mole (MID). Mole is one of the better players on Victory Five, and I think he will hold his own in this match. I think there is plenty of upside for Mole at a point total of 30.5, and I like betting more in this spot. Let's hope this game is a barn burner like I predicted, and that GALA and Mole can stuff the stat sheet. If both totals go over, we win 2.2x our bet size!
GALA Over 67.5 fantasy points
Mole over 30.5 fantasy points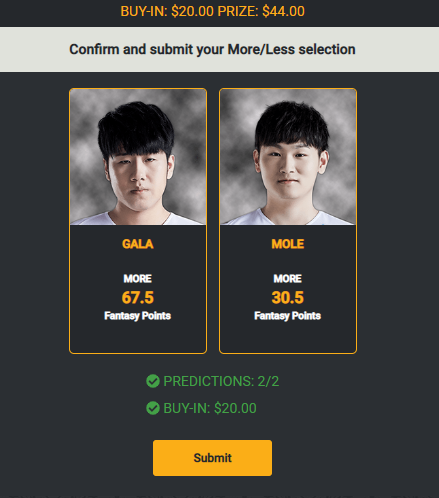 You may have noticed the advertisements for MonkeyKnifeFight (MKF) all over our website. Well that is because we are happy to announce that we are now officially an affiliate of MKF! MonkeyKnifeFight is essentially a combination of our two favorite things – fantasy sports and prop bets. I can't wait to use this website once sports are back, but luckily they do have esports to hold us over for now. As an affiliate, Matrix Leak, and it's bloggers (such as myself) get a percentage of the revenue when you sign up through our ads, so please consider supporting us by joining MKF and making a deposit!
Join in on the fun: Monkey Knife Fight